Archive for the 'Colorado' Category
The Biscuit Bus brings down home southern goodness in the form of great biscuit sandwiches to the streets of Denver! The Biscuit Bus (part of the Denver Biscuit Company) likes to keep their menu short and sweet. Did I say sweet? How about a "Strawberry Shortcake", a biscuit smothered in strawberries and whipped cream. Hey, doesn't everyone like to start with dessert?
The Biscuit Bus also features other biscuit based sandwiches like the "Franklin" with buttermilk fried chicken, bacon, cheese and gravy. Or the "Jack Lee" which has nothing but bacon and grape jelly.


For those willing to go all out the "Schooner" sandwich maybe the ultimate choice. Cornmeal fried catfish, homemade tarter sauce, lettuce and tomato. Sounds simple, tasts complex!
Don't think small when you think biscuit, because the Biscuit Bus featurs might big biscuits, and mighty big taste.
The Biscuit Bus (Denver Biscuit Co.)
Denver, CO
http://www.denbisco.com
Related Posts:
One thing that makes people, organizations and food trucks successful is passion. Passion is the one quality that can push something from being mediocre to being great!
The Denver Cupcake Truck is passionate about their food truck products, but perhaps even more importantly is how passionate their customers are.
One customer wrote the lyrics, composed, and choreographed this wonderful little ditty in tribute to the Denver Cupcake Truck, just so she could win a free cupcake! Personally I believe they should have signed her to a long term personal appearance and promotional contract. Appropriately enough, her creation is called "The Cupcake Dance".
Sean Moore, aka "the cupcake guy" is found operating the Denver Cupcake Truck, but he is also the owner of the Cake Crumbs a great bakery and cake shop in the Denver area.
The Denver Cupcake Truck features a variety of cupcakes each day, including a "mystery" capcake. Ask Sean about that next time you stop by the truck.
The variety of flavors is great including the Denver Snowball with almond cake topped with chocolate frosting and coconut. I salivate over the thought of the S'mores Cupcake; chocolate cake accompanied with honey grahams and gooey marshmallow topped with chocolate frosting, a chocolate piece, toasted marshmallow and graham cracker. For a seasonal treat try the Carrot Cupcake; Sweet carrot cake topped with cream cheese frosting and tangy dried cranberry.
For those chocoholics out there you won't be able to resist the Chocolate Overload Cupcake; chocolate-chocolate chip cake with chocolate frosting and dipped in mini chocolate morsels.
Each cupcake is a winner. Each cupcake is also available in a variety of sizes depending on your level of hunger and calorie intake limits. Mini cupcakes start at just $1, the standard and jumbo are sure to satisfy those with larger appetities… or they are fun to share.
The Denver Cupcake Truck – Denver, CO
http://www.cake-crumbs.com/
Related Posts: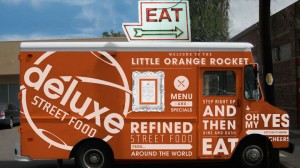 Note: This food truck is not currently operational.
Denver's Deluxe Street Food truck aka the Little Orange Rocket is the street food extension of one of Denver's most on the rise chefs Dylan Moore.  The Little Orange Rocket is an offshoot of Moore's Deluxe and Deluxe Burger sit down restaurants.
The Little Orange Rocket food truck's mission is simple; provide refined street food from around the world.
Deluxe Street Food's most popular item is the Truffle Mac-N-Cheese Balls made from three cheeses, thyme, scallion and truffle oil. Crunchy on the outside, and oozy in the middle!  The truffle oil taste carries over to the Deluxe Truffle Fries.  Fries are also available smothered with white cheddar, homemade roasted pepper ranch dressing, scallions and bacon! 
The international flavors stand out in the Grilled Lamb Flatbread Sandwich, Veggie Coconut Curry (yellow curry, garlic, ginger, cilantro and basmati rice), Banh Mi Slider (grilled chicken, pickled daikon, cucumbers, cilantro, fish sauce and siracha aioli), Spicy Beef Stir-Fry (snow peas, muchrooms, garlic, ginger, chiles and basmati rice) and the Baby Eggplant & Red Pepper Flat Bread Sandwich (homemade truck bread, goat cheese and fresh basil).
Dylan Moore has taken his skills as a fine dining chef and adapted them to provide a refined gourmet dining experience from a truck!
Deluxe Street Food – Denver, CO
Little Orange Rocket
http://www.deluxestreetfood.com
Related Posts: