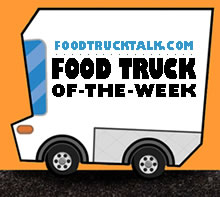 Congratulations to Chairman Bao as FoodTruckTalk.com's Food Truck Of-The-Week!
Buns, buns, buns and more buns!  San Francisco's Chairman Bao food truck has been serving their loyal fans with both baked and steamed Chinese style buns as one of the earliest gourmet food trucks in SF! The Chairman Bao truck is very noticable and draws attention wherever it goes, both for it's food and appearance.
The Chairman Bao menu is broken down into People's Buns with a choice between the red sesame chicken with scallion and bok choy bun or the crispy garlic tofu with miso greens bun (vegetarian).  Like all of the Chaiman's buns they can be ordered either steamed or baked.
For a few cents more the Chairman's Buns offer a choice between the tender pork belly with pickled daikon bun or the the pulled pork with savory cabbage and preserved mustard seed bun.