Archive for the 'Food Truck Of-The-Week' Category
Monday, March 18, 2013 @
09:03 PM
Congratulations to Barcelona On The Go as FoodTruckTalk.com's Food Truck Of-The-Week!
At times it seems like all the great food trucks in Orange County, California are overshadowed by the sheer number of great trucks in Los Angeles. Orange County has it's own health regulations and requires separate permits from Los Angeles County, as a result the assortment of trucks roaming Orange County is very different from the LA scene.
Barcelona On The Go specializes in Spanish bistro cuisine, including tapas.  We recently ran across the Barcelona On the Go food truck in Irvine, CA and ordered up the lead item on the menu board: Churrasco con Chimichurri! For those of you that don't speak Spanish that means "Premium-Angus Top Sirloin with Chimichurri Sauce", and it is served over fresh and crisp french fries.  We were blown away by this dish, with all of us agreeing that if we were served this item in a fine-dining restaurant we would not be suprised.  The Angus beef was cooked to perfection, and was juicy tender.  The fries were outstanding.  But what really impressed us was the freshness and full flavor of the Chimichurri sauce.  Outstanding!  We recommend bottling the sauce and selling it, it was that good.
The rest of the Barcelona On The Go menu all use fresh ingredients and are prepared to perfection.  Other patrons stopped by in search of Barcelona's Paella Valencia na (seafood & chicken paella).  While this dish is not available every day those that have had it raved about it, and considered it one of the best food truck items that they have every had.
Spanish sandwiches are popular and include the Bocadillo de Pollo con Salsa Romesco (chicken breast with romesco sauce), Bocadillo de Serrano (Serrano ham sandwich) and the Catalan sausage sandwich.
Also available is a great Lentil Soup (with smoked ham), egg/potato frittatas, chicken turnovers and Manchego cheese croquettes.
There is no question you will not only enjoy the food at Barcelona On The Go but also appreciate the freshness of the ingredients and the care used in the preperation of true Spanish cuisine.
For those of you in the Los Angeles area (and beyond) it is worth the drive south for a visit to Barcelona On The Go!
Barcelona On The Go – Orange County, CA
http://www.barcelonaonthego.com
Related Posts:
Monday, February 11, 2013 @
10:02 AM
Congratulations to Grill 'Em All Truck as FoodTruckTalk.com's Food Truck Of-The-Week!
The synergy is perfect: Rock n' Roll, Heavy Metal, an attitude and great bugers!  There is no doubt, Grill Em All Truck is delivering it all.
Chef Ryan Harkins and Matthew Chernus have been friends for 20 years, first as collaborating as band mates, and now as partners in the Grill Em All gourmet hamburger food  truck.  Their appreciation of heavy metal music and burgers have collided to make a great food truck!  Based onGrill Em All's passion for music I am guessing the "grill em all" is a take off from the Metallica song "Kill Em All."
Chef Ryan's has a background in fine dining so it is not unusual that Grill Em All serves unique and gourmet burgers with a side of heavy metal.
Is there anywhere else you can get a gourmet burger with cream cheese, deep fried bacon, beer & Siracha soaked onions & garlic aioli?  Or a burger with cranberry flavoring along with Maytag Blue Cheese and potato chips.  The Waste Em All burger features marinated green chilies, pepper jack, beer soaked onions.   And don't forget the fries, they are perfection!
I can just imagine Ryan and Matthew in the kitchen, heavy metal music blaring as they are collaborating on creating another great taste combination for a Grill Em All burger.
Jerrold Ridenour did a great video profile of the Grill Em All truck for Food Trucking TV.  This video really illustrates the vibe and attitude that Grill Em All delivers!
Grill Em All will give you a truly gourmet burger, with unique flavor combinations, along with some great music.  There is no way you can go wrong with that combination!
Also, check out Grill Em All's merchandise store at http://www.indiemerchstore.com/grillemalltruck, nice looking garb.  The store is like the tables set up at rock concerts to sell T-shirts and cd's only in an online form!  I need to get one of their burger logo t-shirts and hat!
Grill Em All Truck - Los Angeles, CA
http://www.grillemalltruck.com
Related Posts:
Tuesday, November 27, 2012 @
11:11 AM
Congratulations to Mexicue as FoodTruckTalk.com's Food Truck Of-The-Week!
In a city where you can find virtually any type of food imaginable Thomas Kelly and David Schillace's Mexicue food truck has created a synergistic masterpiece between sweet red-hot Mexican cuisine and smoky down-home barbeque. 
It all started when Mexicue began mixing green chili sauce with smoked short ribs, and poblanos with tomatillo sauce on barbequed chicken.   It became clear very quickly that these unique flavor combintions actually work together.  From there the Mexicue menu was born.
Like many food trucks Mexicue focuses on tacos and sliders (thank you White Castle).  Three types of tacos are available: Oak Smoked Short Ribs topped with green salsa, cheddar and salsa fresca, the Smokey Pinto Beans with goat feta cheese, habenero aioli slaw and cilantro, and finally BBQ Beets in a fiery bbq sauce with spiced goat crumbled cheese and watercress.
It will be tough to choose between the sliders.  Can I have a combo plate please?  The Pulled Pork Shoulder has an explosive taste created with mexicana rub, alder smoke, arbol BBQ Sauce, pickled red onions, and avocado.  The Smoked Chicken features chipotle rub, cherry smoke, charred poblanos, and salsa verde.  And finally, our favorite, the BBQ Brisket.  This is probably not the brisket you'll have this Hanukkah season… this one is seasoned with the combination of mexicana rub, alder smoke, arbol BBQ sauce, spicy slaw, and avocado.
Mexicue's tastes and flavors really add a unique touch to the New York City/Brooklyn food truck scene.
Mexicue – New York, NY
http://www.mexicueny.com                                                                                      
Related Posts:
Monday, November 26, 2012 @
01:11 PM
Congratulations to Fishlips Sushi as FoodTruckTalk.com's Food Truck Of-The-Week!
Finally I can spout all of my incredible knowledge of ichthyology (a branch of zoology devoted to the study of fishes).   It's great to be an expert in something!  Just kidding, I don't know much about fish, but those in the ichthyology field inform me that yes fish do have lips although not like humans, and fish lips have taste buds.  There you have it.  Throw that piece of knowledge out next time you are at the bar with friends.
I am sure that Takeshi Kimura (aka TK) when he established Fishlips Sushi Food Truck knew that, after all he is a sushi expert!
The Fishlips truck is unique in that there is actually a sushi chef on board that is producing a great variety of quality sushi at very reasonable prices.  We have been assured that the chef is not slicing while the vehicle is in motion, after all safety is the highest priority!
The quality is exceptional, far superior to many restaurants, grocery stores, Kmart or wherever else you can get sushi these days.
Fishlips Sushi's menu has traditional rolls as well as Temari Sushi which is a ball-shaped sushi made by pressing rice and fish together.  It's really neat looking and a great finger food.  The Temari's are available with either tuna, tuna tataki, eel, albacore, eskalar, yellowtail, salmon, snapper, halibut or shrimp.
For lunch Fishlips offers a variety of combination plates consisting of a combination of sushi rolls and temari sushi balls.  The sushi rolls fall into a few categories: California, Spicy Tuna, Shimp Tempura, and Vegetable.  Within each categories there are a few options.  Within the spicy tuna roll category is the spicy dragon roll with tuna, hot sauce, sesame oil. avocado, cucumber, eel and tamari sauce!
The Fish Lips roll has no rice, but instead is a soy sheet, avocado, cucumber, asparagus, crab, tuna, white tuna, white fish, salmon, tamari sauce, hot sauce and mayonnaise!  That's a lot to roll up!
Another unique feature from FishLips Sushi Food Truck is that they provide calorie information for each item.  The Fish Lips Roll has just 36 calories.  All of the roll based sushi are under 50 calories each.  The temari sushi balls range between 40 and 60 calories each.
FishLips Sushi uses organic vegetables and Koshihikari sushi rice, the #1 brand in Japan!
Now, I wonder if chickens have lips???
Fishlips Sushi – Los Angeles, CA
http://www.fishlips-sushi.com
Related Posts:
Thursday, August 23, 2012 @
01:08 PM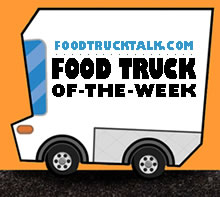 Congratulations to Streetza Pizza as FoodTruckTalk.com's Food Truck Of-The-Week!
Growing up on Long Island (years and years ago) was a lot of fun as we always were interested in which trucks would come down our street selling their wares. Like most kids we had a variety of ice cream trucks including Mr. Softee (my personal favorite) and Good Humor. I was always fascinated by the truck that came around to sharpen everyone's knifes and other sharp objects. In retrospect it was funny watching everyone going to the street with their sharp objects to get them sharpened.
However, the truck that I loved the most was the pizza guy. Some guy took an old school bus, decked it out with a pizza oven, rang a bell, and people came running to enjoy his made on-the-spot pizza. I remember the great scent of pizza coming from the pizza oven's exhaust pipe coming out the rear of the truck.
Well, a bunch of years later the pizza via truck has been perfected by a couple of guys in Milwaukee! Scott Baitinger and Steve Mai found out that it's not so easy to be able to make pizza in a hot oven in a truck! Trial and error finally prevailed and Street-za hit the streets.
Besides serving a variety of great pizza slices at reasonable prices Street-za has integrated themselves into Milwaukee's neighborhoods by designing speciality pizza slices around the neighborhoods.
The Brewer's Hill Slice takes the finest locally produced bratwurst, simmer it in Blatz beer from @Blatzliquor and load it on their pizza, top it with tomato sauce, mozzarella, provolone and parmesan. Served with a side of sauerkraut. I've been to Milwaukee, and to not have a pizza slice paying tribute to Blatz Beer and bratwurst would be wrong.
THE WALKER'S POINT SLICE features Streetza's crust topped with a special "salsa-like" pizza sauce, chorizo sausage, onions, peppers, mozzarella and cheddar cheese, and tortilla chips.
There are many Streetza neighborhood slices. But their variety of specialty pizzas is also impressive. For example, the Crab Legs slice starts with a basil and thyme cream sauce, fresh crab meat, fresh corn, leeks, and mozzarella. Then it's topped it off with a whole crab leg!
Streetza also has dessert covered. The S'mores Pizza is Streetza crust dusted with cinnamon and sugar and topped with Nutella, marshmallows, semi-sweet chocolate, crushed graham crackers and drizzled with hot fudge. Probably not the choice if you are worried about fitting into your skinny jeans!
Oh yeah, also not to be missed are the traditional cheese, pepperoni, sausage, and veggie pizzas. The Streetza Pizza slice's share a crust that is described as being between the thin crust of New York and the thick crust of Chicago. Huge slices are available as well as full pie's.
For me Streetza brings back great memories of when I was a kid. For all of us Streetza delivers great pizza in a friendly and fun way!
Streetza Pizza – Milwaukee, WI
http://www.streetzapizza.com
Related Posts:
Tuesday, August 21, 2012 @
04:08 PM
Congratulations to Jogasaki Sushi Burrito as FoodTruckTalk.com's Food Truck Of-The-Week!
There is little question that the Korean BBQ taco and burrito launched the food truck revolution.  It was quickly followed by other burrito variations that combined cuisines from virtually every nationality. Therefore, it should come to no suprise that the one of the latest burrito entrants combines Japanese sushi ingredients in a burrito!
We recently had the opportunity of sampling Jogasaki Sushi Burrito's at the recent Downtown LA Art Walk.  We were skeptical, but at first bite we were in love!
We started with the Jogasaki Sushi Burrito #2 which included shredded imatation crab in a mayonnaise sauce, spicy tuna, avocado, cucumber and a dark dipping sauce on a bed of rice.  Burritos at Josasaki are available either wrapped in a traditional flour tortilla or in a soy papper with black sesame seed wrap.  We decided to go traditional and opt for the flour tortilla for our first attempt, and boy was it delicious.  Although the ingredients are those found in traditional sushi the presentation by Jogasaki was more of a "mash-up", all the flavors combined in a delectable fashion.
Other Jogasaki Sushi Burritos  feature fried salmon skin, shrimp tempura, eel, crabmeat and virtually any other sushi ingredient you can think of.  An optional hot sauce is available, use at your own discretion!
Another popular item are the Spicy Tuna Nachos, doritos piled high with spicy tuna and avocado!  Also, try any of the other unique variety of items tht Jagasaki Sushi Burrito dishes up.  There is no shortage of unique combinations!
It's great to see someone take the burrito concept to a higher level and in a new and unique fashion.  We recommend Jogasaki Sushi Burrito to anyone looking for a delicious, easy to eat, and unique food truck meal.
Jogasaki is also very active in benefit events for Japan relief.  Check out their web site and Twitter feed for updates.
In Jogasaki Burrito – Los Angeles, CA
http://www.jogasakburrito.com
Related Posts: