Archive for the 'Georgia' Category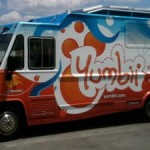 I guess we have a math question today. What if you take Korean BBQ add Mexican traditions, and mix in some Southern love and attention? No, the answer isn't 83, it's Yumbii Food Truck in Atlanta, GA. World class chef Thomas Lee (Hankook Taqueria) combines all of the flavors of Asia, Mexico and the south and creates a damn good meal.
The menu focus is on their signature BBQ beef rib-eye taco and the spicy pulled-pork sliders. There are also weekly specials like a fried chicken taco with chipotle mayo.
The focus on Korean BBQ flavors shines thru with the Korean BBQ Taco and the Korean BBQ burritos. Either with choices of beef, chicken, pulled pork or stir fried tofu. Quesadillas are also available.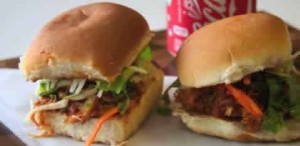 Yumbii's truck is pretty great looking as well…. watch for it all around Atlanta.
Yumbii
Atlanta, GA
http://www.yumbii.com
Related Posts: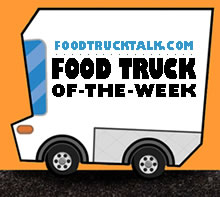 Each week we will feature one specific food truck that impresses the heck out of us.  We are impressed pretty easily… it could be incredible marketing, superb food, a great looking truck, a ton of mainstream press and accolades, etc.  Sometimes, it can just be a free t-shirt.  I told you we are easy!
Plus, the luck Food Truck Of-The-Week can use our cool logo on their web site!  It's as prestigious as an Oscar or Emmy or Golden Globe or MTV Award or ESPY.  Whatever, you get the idea.
If you think you know of a food truck that should be annointed Food Truck Of-The-Week or if you own one let us know!  We love to feature the great diversity in the food truck world.
[twitter-widget username="foodtrucktalk" items="5″ hidereplies="true" targetBlank="true"]
Related Posts: