Archive for the 'Illinois' Category
Thursday, April 19, 2012 @
10:04 AM
Chef Cary Taylor of The Southern, a kick-ass bar that serves outstanding comfort food has launched a mobile off shoot called The Southern Mac & Cheese Truck.  It will come as no suprise that he is serving an incredible variety of what can be called gourmet mac and cheese specialties.
The Southern Mac & Cheese Food Truck serves an alternating variety of around two dozen mac & cheese items.  Favorites include andouille sausage and crawfish mac & cheese, smoked gouda, blue cheese and bacon mac & cheese, sun dried tomato and carmelized onion mac & cheese.
Did I get your cravings amped up?  How about Cheddar Cheese with grilled Vienna beef franks, pulled chicken with a blue-cheese with Buffalo sauce, or smoked Gouda, apple and walnuts mac & cheese.
The Southern Mac & Cheese Truck stands out by serving outstanding mac and cheese specialties fused with unique flavors and ingredients.  Comfortable, very comfortable.
The Southern Mac & Cheese Truck – Chicago, IL
http://www.thesouthernmac.com
Thanks again Cityfront! Have a fabulous weekend everybody!

Today's Macs: The Classic, 4 Cheese White Truffle w/Asparagus, Chorizo w/Pepper-Jack, Cajun Andouille w/Pepper-Jack, Goat Cheese & Scallions

Happy Friday! Have arrived @ Cityfront Plaza!

Arrived in Hyde Park. On east side of Ellis just south of 57th. Get yerself outside!

Due to a Thursday scheduling conflict we'll be coming to Hyde Park today. There around 11:00.
Related Posts:
Tuesday, April 17, 2012 @
02:04 PM
Via Twitter we asked which food trucks had the most outstanding short ribs!  We received a variety of responses and thought we would share them with you. After all, who doesn't like short ribs?  (Maybe I should hire Randy Newman to compose a song called Short Ribs, sung to the melody of Short People??).
We have to thank @DeeRyan29 who pointed out that "@whereschacha's does a short rib taco that'll make you slap yo' mama!"  Cha Cha Chow (@whereschacha) food truck fills a flour tortilla with beef short ribs, red cabbage lime slaw, cheese and of course, Cha Cha Sauce.  Hey, with a recommendation like that from DeeRyan29 how can you go wrong?
I gotta think that those in Ausin, Texas know something about ribs!  And they do, check out Coreanos (@coreanosTX).  They serve marinated beef short ribs served in a Korean BBQ style taco or burrito.  Based on the number of times that Coreanos was recommended I think it's a good bet they know how to braise!  The OG Burrito sounds pretty neat: Marinated beef short ribs, french fries, Korean slaw, onion & cilantro, caramelized kimchi,  sesame oil vinaigrette and garlic spread in a burrito!
Southern California's Calbi food truck (@calbibbq) features beef short ribs as part of their menu in both tacos and burritos.  Calbi's short ribs are flavor enhanced with Korean spices.
Food truck goliath Kogi @kogibbq) also offers short ribs in taco and burritos!   Kogi chops the korean bbq short rib into small pieces then puts them on the grill to creaty a "juicy char" from the carmelization.
In the other than Korean BBQ category there are quite a few entries including GastroPod Miami (@gastropodmiami) which presents their short ribs with in true gastropub form as sliders as well as ground up and made into short rib burgers!  Also in Miami, the Slow Food Truck offers a "Short Rib n Dip" sandwich with crispy shallots, live watercress, cheese, and au jus (@slowfoodtruck).
The World Fare Bustaurant in Los Angeles serves from a double decker bus!  They offer two variations of short ribs.  The Short Rib Bunny is a worcestershire braised short rib, they also offer a red wine braised version.  (@worldfare)
Not to be outdone, Northern California's MoGo BBQ food truck offers short rib tacos and burritos plus a Hawaiian influenced short rib slider that is topped with Spam, cheese and slaw!  (@mogobbq)
In New York City Mexicue fuses together Southwest and BBQ to create a Oak Smoked Short Rib Taco garnished with salsa verde, aged white cheddar, and salsa fresca (@mexicue).
Across the river in New Jersey The Krave food truck features Korean BBQ tacos as well as a traditional Korean BBQ Rice Platter with short ribs, sticky white rice, kimchi, relish and sesame seeds.  (@thekrave)
In Philadelphia the Asian themed Tyson Bee's food truck offers Korean BBQ short rib tacos as well as a short rib and kimchi burrito. (@tysonbeesphilly)
We are sure that there are plenty other food trucks serving beef short rib.  Please leave a comment below to recommend your favorite and we'll add them to our Short Rib Tour!
Related Posts:
Thursday, October 20, 2011 @
01:10 PM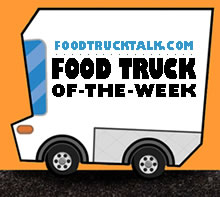 Congratulations to Gaztro-Wagon as FoodTruckTalk.com's Food Truck Of-The-Week!
Chicago's Gaztro-Wagon is run by Matt Maroni with a very simple philosophy, fresh food fast.  The Wagon's fresh seasonal fare has hit the streets running in Chicago and becoming extremely popular as a food truck as well as a traditional "store" location.
The Gaztro-Wagon's claim to fame is the Naan-Wich, a savory or sweet street food stuffed in Naan bread (a flatbread) built from quality ingredients that are handled with pride and care.
Sound simple?  Maybe, but the Gaztro-Wagon has pushed the Naan-Wich over the edge of traditional street food into true gourmet food.  Consider the ingredients in this Naan-Wich:  wild boar belly, dates, bleu cheese, romesco sauce and onions wrapped in a soft warm naan bread.
Other favorite Naan-Wiches include the braised lamb Naan-Wich with queso panela,apricots, candied walnuts and padron peppers. The Warm Lobster Club includes pancetta, tomato onion salad and arugula pesto.
If your tastes are a little more subdued you should certainly try the Fidel "gaztro" Naan-Wich with pork shoulder, ham, sliced pickle mustard and manchego or the Corn Beef Reuben Naan-Wich with provolone, warm cabbage slaw and a tomato remoulade.
The menu changes often, and not all items are available from the truck at all times.  I am looking forward to trying the Naan-Wich which combines braised lamb, queso panela, apricots, candies walnuts and padron peppers!
As a side dish be sure to try the plantain chips as they are the perfect addition to all of the flavors combined in Gaztro-Wagon's Naan-Wiches.
Chicago has not been a food truck mecca (partially due to Chicago's intense food preperation regulations), part of Gaztro-Wagon's mission is help grow the Chicago food truck scene and take it to the highest level.
Hat's off to Gaztro-Wagon for creating a creative and unique food truck menu that delivers in taste, quality and seasonal ingredients.  When in Chicago forget about deep-dish pizza and Italian Beef sandwiches and instead treat yourself to a real treat – Gaztro-Wagon.
Gaztro-Wagon – Chicago, IL
http://www.gaztro-wagon.com
Related Posts:
Friday, June 24, 2011 @
02:06 PM
Congratulations to Meatyballs Mobile as FoodTruckTalk.com's Food Truck Of-The-Week!
What better way is there to start the new year then with Bull's Testicles bought from a food truck that can't prepare food on the truck?  Which surprises you more?  Chicago Health Department regulations prevent food trucks from actually cooking food on their truck, but you can dispense pre-made food.  It's quite the controversy in Chicago, and a battle is brewing being led by Meatyballs Mobile's owner and renowned chef Phillip Foss.
Only a chef  like Phillip Foss, a graduate of the Culinary Institute of America, and trained at great restaurants like New York's Le Cirque would have "the balls" (if you pardon the expression) to fight the fight and prepare Bull's Testicles in a pepper and tomato ragout?   I'd love to have my wife step up to the Meatyballs Mobile window and order "Not Yo' Daddy's Balls!"
The rest of Meatyballs Mobile food truck's menu is a bit more mainstream but clearly creative and filled with flavor.  A few will attempt the Bull's Testicles, the rest of us will enjoy sandwiches like the "BBQ Balls" with pulled pork shoulder, red cabbage, apples, and cola-bourbon BBQ sauce, the "Chicago Style Lobster Balls" with lobster, tomatoes, peppers, and saffron sauce, or the "Bouilla-Balls" with brandade, crab, shrimp, shellfish, marseilles veges,  and rouille.
Vegetarians are not ignored, try the Ricotta Balls with ricotta dumplings, eggplant bolognese, and parsley pesto.
There's always room for dessert, so Meatyballs Mobile offers "Chocolate Salty Balls."
Stop by, meet Phillip Foss, try the balls of your choice, and be sure to find out how you can help change Chicago's archaic regulations that are restricting the growth of the food truck phenomenan in Chicago.
Meatyballs Mobile - Chicago, IL
http://www.phillipfoss.net/
Related Posts:
Saturday, September 11, 2010 @
07:09 PM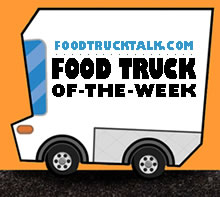 Each week we will feature one specific food truck that impresses the heck out of us.  We are impressed pretty easily… it could be incredible marketing, superb food, a great looking truck, a ton of mainstream press and accolades, etc.  Sometimes, it can just be a free t-shirt.  I told you we are easy!
Plus, the luck Food Truck Of-The-Week can use our cool logo on their web site!  It's as prestigious as an Oscar or Emmy or Golden Globe or MTV Award or ESPY.  Whatever, you get the idea.
If you think you know of a food truck that should be annointed Food Truck Of-The-Week or if you own one let us know!  We love to feature the great diversity in the food truck world.
Related Posts: