Archive for the 'New York' Category
Saturday, February 16, 2013 @
02:02 PM
Schnitzel is a simple food, but very difficult to make well.  I love getting a huge piece of Schnitzel while it is hot and fresh,w ith just the right amount of crunch and chewiness.  I usually have leftovers and take them home for lunch the next day.  Unfortunately, once reheated it just isn't the same.
As a result of my experiences I was concerned about how well a shnitzel could be when prepared on a mobile food truck.  Schnitzel & Things has proven my concerns to be unfounded.   I ordered the traditional pork schnitzel, the pork cutlet was pounded thin, perfectly breaded and then lightly fried until crispy and served with the required lemon wedge.  The portion has huge and hanging over the edge of my plate.
In addition to pork schnitzel you can order chicken schnitzel, cod schnitzel or a schnitz burger.  Also available is bratwurst.
I ordered the Pork Schnitzel Platter which comes with two side dishes.  I opted for the standards, Austrian potato salad and braised sauerkraut.  This platter was clearly as good, if not better, than most (if not all) the sit-down restaurants that I have gotten schnitzel at.
Another thing that makes the schnitzel from Schnitzel and Things unique are the condiments they offer.  Either on a schnitzel sandwich or platter you can add a condiment like pesto mayo, chipotle sour cream, ginger/scallion/garlic relish, tartar sauce, spicy siracha mayo, ketchup, mustard or mayo.  Go with friends and get a variety of the condiments and try them all!
Oleg Voss, the owner of Schnitzel & Things, worked in investment banking in Vienna, Austria before he came back to New York City with an entrepenurial spirit and the talent to serve Austrian style schnitzel.
Hey Oleg, how about adding Austrian style Potato Pancakes with sides of sour cream and apple sauce?  It would be a great addition to schnitzel heaven!
Schnitzel & Things – New York, NY
http://www.schnitzelandthings.com
Related Posts:
Tuesday, November 27, 2012 @
11:11 AM
Congratulations to Mexicue as FoodTruckTalk.com's Food Truck Of-The-Week!
In a city where you can find virtually any type of food imaginable Thomas Kelly and David Schillace's Mexicue food truck has created a synergistic masterpiece between sweet red-hot Mexican cuisine and smoky down-home barbeque. 
It all started when Mexicue began mixing green chili sauce with smoked short ribs, and poblanos with tomatillo sauce on barbequed chicken.   It became clear very quickly that these unique flavor combintions actually work together.  From there the Mexicue menu was born.
Like many food trucks Mexicue focuses on tacos and sliders (thank you White Castle).  Three types of tacos are available: Oak Smoked Short Ribs topped with green salsa, cheddar and salsa fresca, the Smokey Pinto Beans with goat feta cheese, habenero aioli slaw and cilantro, and finally BBQ Beets in a fiery bbq sauce with spiced goat crumbled cheese and watercress.
It will be tough to choose between the sliders.  Can I have a combo plate please?  The Pulled Pork Shoulder has an explosive taste created with mexicana rub, alder smoke, arbol BBQ Sauce, pickled red onions, and avocado.  The Smoked Chicken features chipotle rub, cherry smoke, charred poblanos, and salsa verde.  And finally, our favorite, the BBQ Brisket.  This is probably not the brisket you'll have this Hanukkah season… this one is seasoned with the combination of mexicana rub, alder smoke, arbol BBQ sauce, spicy slaw, and avocado.
Mexicue's tastes and flavors really add a unique touch to the New York City/Brooklyn food truck scene.
Mexicue – New York, NY
http://www.mexicueny.com                                                                                      
Related Posts:
Tuesday, May 15, 2012 @
02:05 PM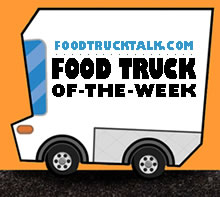 Congratulations to Big Gay Ice Cream Truck as FoodTruckTalk.com's Food Truck Of-The-Week!
I was recently visiting Hong Kong and was walking around the outside exhibits of the art museum, when I noticed a familiar site in the distance…. a Mr. Softee ice cream truck! I knew American brands had made their way to Asia but I was suprised to see that Mr. Softee was one of them!
This Hong Kong version of one of my favorite ice creams did not live up to my expectations.
However, one ice cream truck that exceeds my high level of ice cream quality is the Big Gay Ice Cream Truck.
One of the great things about the "special" food trucks is that they often take a very basic concept and find a way to take it to the next level.  This is truly the case with the Big Gay Ice Cream Truck as they have put their own twist on soft serve ice cream (get it, "their own twist!!!").
The Big Gay Ice Cream Truck was founded by Doug Quint (a professional bassoonist) and his partner Bryan Petroff.  They have created some incredibly clever ice cream desserts that include a wide variety of toppings, many of which will suprise you.
Since Thanksgiving is just around the corner let's start with the Gobbler.  This ice cream sundae specialty starts with vanilla ice cream sitting on a bed of crushed graham crackers and topped with pumpkin butter, whipped cream and craisins.  Hey, for Halloween pass this treat out to the kids in the neighborhood!
THe Big Gay Ice Cream Truck guys have fun with their treats and the names of the treats.  Care for a Salty Pimp?  It's a vanilla ice cream cone with dolce de leche, sea salt and then dipped in chocolate.  How about the Bea Arthur, vanilla ice cream with dolce de leche and crushed Nilla wafers.  I don't know why this is called Bea Arthur, but I'm sure she would have approved.
The Belgian Slipwich (ice cream sandwich) is vanilla ice cream on a bed of Nutella squeezed between two chocolate cartwheel cookies.  Yum!
Ice cream toppings include some unusual items including olive oil with sea salt, Trix cereal, cayenne pepper, wasabi pea dust, Nutella, ginger syrup, elderflower syrup, key lime curd, siracha (a Thai hot sauce) and many more!  Check with Doug when you visit the Big Gay Ice Cream Truck and see if he has carmelized bacon on the truck, if he does he will create a very special and unique treat for you!
Great ice cream and a lot of  fun that is sure to put a smile on your face and maybe bring back memories of your memories of Mr. Softee, only the Big Gay Ice Cream Truck is like Mr. Softee on steroids!
Big Gay Ice Cream Truck – New York, NY
http://biggayicecreamtruck.com
Related Posts:
Tuesday, April 17, 2012 @
02:04 PM
Via Twitter we asked which food trucks had the most outstanding short ribs!  We received a variety of responses and thought we would share them with you. After all, who doesn't like short ribs?  (Maybe I should hire Randy Newman to compose a song called Short Ribs, sung to the melody of Short People??).
We have to thank @DeeRyan29 who pointed out that "@whereschacha's does a short rib taco that'll make you slap yo' mama!"  Cha Cha Chow (@whereschacha) food truck fills a flour tortilla with beef short ribs, red cabbage lime slaw, cheese and of course, Cha Cha Sauce.  Hey, with a recommendation like that from DeeRyan29 how can you go wrong?
I gotta think that those in Ausin, Texas know something about ribs!  And they do, check out Coreanos (@coreanosTX).  They serve marinated beef short ribs served in a Korean BBQ style taco or burrito.  Based on the number of times that Coreanos was recommended I think it's a good bet they know how to braise!  The OG Burrito sounds pretty neat: Marinated beef short ribs, french fries, Korean slaw, onion & cilantro, caramelized kimchi,  sesame oil vinaigrette and garlic spread in a burrito!
Southern California's Calbi food truck (@calbibbq) features beef short ribs as part of their menu in both tacos and burritos.  Calbi's short ribs are flavor enhanced with Korean spices.
Food truck goliath Kogi @kogibbq) also offers short ribs in taco and burritos!   Kogi chops the korean bbq short rib into small pieces then puts them on the grill to creaty a "juicy char" from the carmelization.
In the other than Korean BBQ category there are quite a few entries including GastroPod Miami (@gastropodmiami) which presents their short ribs with in true gastropub form as sliders as well as ground up and made into short rib burgers!  Also in Miami, the Slow Food Truck offers a "Short Rib n Dip" sandwich with crispy shallots, live watercress, cheese, and au jus (@slowfoodtruck).
The World Fare Bustaurant in Los Angeles serves from a double decker bus!  They offer two variations of short ribs.  The Short Rib Bunny is a worcestershire braised short rib, they also offer a red wine braised version.  (@worldfare)
Not to be outdone, Northern California's MoGo BBQ food truck offers short rib tacos and burritos plus a Hawaiian influenced short rib slider that is topped with Spam, cheese and slaw!  (@mogobbq)
In New York City Mexicue fuses together Southwest and BBQ to create a Oak Smoked Short Rib Taco garnished with salsa verde, aged white cheddar, and salsa fresca (@mexicue).
Across the river in New Jersey The Krave food truck features Korean BBQ tacos as well as a traditional Korean BBQ Rice Platter with short ribs, sticky white rice, kimchi, relish and sesame seeds.  (@thekrave)
In Philadelphia the Asian themed Tyson Bee's food truck offers Korean BBQ short rib tacos as well as a short rib and kimchi burrito. (@tysonbeesphilly)
We are sure that there are plenty other food trucks serving beef short rib.  Please leave a comment below to recommend your favorite and we'll add them to our Short Rib Tour!
Related Posts:
Tuesday, January 24, 2012 @
08:01 PM
Congratulations to the Bistro Truck as FoodTruckTalk.com's Food Truck Of-The-Week!
In New York City you can find a restaurant serving food from virtually every country in the world!  The same is quickly becoming true of New York City food trucks.
Moroccan-born Yassir Z. Raouli's  Bistro Truck food truck is dishing out affordable street food with a Moroccan-Mediterranean influence.  Yassir prides himself on offering restaurant quality fare.  The Bistro Truck menu is large and offers not only Moroccan and Mediterranean influenced dishes but more traditional ones as well.
The Bistro Truck offers a few specialty plates including the "Dijon Chicken", marinated in Meditteranean spices and dijon mustard, and served with either couscous or rice.  On the side is a fresh mixed spring salad.  The portion size is great, you won't go hungry!
Also available as combo plates are Marrakech lamb or vegetarian vegetable tajine (vegetable stew), also served with couscous or rice and a fresh green salad.
Many claim that the Bistro Truck's Chicken Brochette sandwich is the best chicken sandwich in New York City!  The marinated white chicken cubes are grilled and served on a fresh French baquette and topped with roasted tomato carmelized onions. 
There are not many food trucks serving restaurant qualtiy lamb.  It's a specialty at the Bistro Food Truck where there is a lamb brochette sandwich, a lamb sausage sandwich (Merquez) in addition to the Marrakech lamb plate and various specials of the day.
Another unique sandwich is the Tangier Bocadillos, mortadalla, tuna, cheese, hard boiled egg, and mixed vegetable tossed in a non-fat cilantro mayo and served on a baguette.
Don't pass up the burgers!  The Bistro Buger features grass fed beef that is seasoned, grilled, and then topped with Roma Plum tomato, lettuce, cheese and the Bistro Truck special sauce.
Noshers will appreciate some of the smaller serving size  hor doeuvres including salad nicoise, lamb, vegetable or chicken cigars (homemade filo dough stuffed with seasoned ground meat, chicken or vegetables, and the various soups of the day. 
We have to mention The Bistro Truck's Belgium French Fries, once again, considered some of the finest in NYC!  Crunchy and seasoned just right!
All in all, The Bistro Truck certainly is a mobile restuarant that achieves their goal of serving restaurant quality food!  With their varied menu, no matter what you are craving, the Bistro Truck is worth a vist!
Bistro Truck – New York, NY
http://www.bistrotruck.com
Related Posts:
Tuesday, August 23, 2011 @
02:08 PM
Where's Lloyd? is the first taco truck to serve the great city of Buffalo, NY.
Their mission is to bring legitimate street food to Buffalo by offering affordable yet incredibly tasty takes on tacos, nachos and burritos.  Fillings include chimi chicken, braised beef, tomatillo pork and stewed beans.
Where's Lloyd? – Buffalo, NY
http://www.whereslloyd.com
Lloyd GEAR (tees, hats, hoodies & more) are available @ the trucks AND on our website! http://t.co/2fKTO80HGz #Lloyd101

BIG Lloyd McSpecial: Local ground BEEF, special sauce, cheese, pickles, onions, tomatoes. $3.25/taco, $7.50/burrito

HOLLA! 11:30a-1:30p @ Main & Mohawk & Blue Cross/Blue Shield (corner 7th & Court) / BIG Lloyd special!!!

Friday we PUMP UP THE JAM! Lunch 11:30a-1:30p BIG Lloyd special @ Main & Mohawk AND Blue Cross/Blue Shield (corner 7th & Court)
Related Posts: