Archive for the 'Oklahoma' Category


Since July, 2009 Big Truck Tacos has been a big hit in Oklahoma City, OK not only because of their great food but also because of their committment to the community.
Big Truck Tacos serves up innovative Mexican street food with a twist. Tacos, burritos, gorditos, and other Mexican and Latino cuisine that is made with the freshest ingredients and spiced up with some unique flavors.
The Big Truck Taco's menu is rather extensive serving a wide variety of tacos, burritos, soups, salads and side dishes. In addition, you can start your day with a Big Truck Taco breakfast taco and be as adventerous as you like from a basic taco with egg and meat to the "Sam I Am" with egg, avocado, ham and cheese.


Big Truck Tacos has been active in the community by developing pink versions of their gear to support the campaign against breast cancer, holding a food drive to benefit the Regional Food Bank, and accepting (and matching) donations to support the disaster in Haiti.
Big Truck Tacos
Oklahoma City, OK
http://www.bigtrucktacos.com
Related Posts: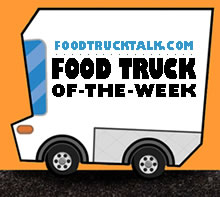 Each week we will feature one specific food truck that impresses the heck out of us.  We are impressed pretty easily… it could be incredible marketing, superb food, a great looking truck, a ton of mainstream press and accolades, etc.  Sometimes, it can just be a free t-shirt.  I told you we are easy!
Plus, the luck Food Truck Of-The-Week can use our cool logo on their web site!  It's as prestigious as an Oscar or Emmy or Golden Globe or MTV Award or ESPY.  Whatever, you get the idea.
If you think you know of a food truck that should be annointed Food Truck Of-The-Week or if you own one let us know!  We love to feature the great diversity in the food truck world.
[twitter-widget username="foodtrucktalk" items="5″ hidereplies="true" targetBlank="true"]
Related Posts: