Archive for the 'Oregon' Category
Friday, September 23, 2011 @
02:09 PM
A husband and wife team are serving a small menu with big sandwiches such as the PORK HAMMER featuring ham, bacon, sausage, home-cut fries and home-made coleslaw. That's the priciest sandwich on the menu at just $9. It's a meal!
The namesake "Big Ass Sandwich" gives you a choice of slow-roasted turkey, beef or ham, piled high with home-cut french fries, covered with Bechamel cheese sauce and servied onto a ciabatta roll.  Spend an extra fifty cents and add some pickled jalapenos!
Big-Ass Sandwiches uses local ingredients whenever possible including their break (baked daily and locally), as well as meats from Northwest family owned stock yards and locally made sauces.

Part of what makes Big-Ass sandwiches so huge is that most sandwiches include french fries on the sandwich. Adds to the taste and the convenience!
Portland has a large vegetarian commuity and Big-Ass Sandwiches serves their needs with veggie fare.
Get your ass to Portland and enjoy the great taste of a "Big-Ass."

Big-Ass Sandwiches
http://bigasssandwiches.com
SW 3rd. and Ash St.
Portland, OR
Related Posts:
Saturday, May 21, 2011 @
03:05 PM
The cone stuffings vary in style but who could argue with a waffle cone filled with pulled pork and cole slaw?  Not a traditional snack, but certainly a delicious one!  You won't want to miss a single bite of the cone after is absorbs some bbq sauce!
The slightly sweet and warm waffle cone is also available filled with chicken and dumplings, wagon wheel pasta in a rich, creamy vegan tomato sauce (the "O, Pioneed Cone!), sauteed button mushrooms and garlic in a rosemary marsala glaze (the "Fungus Cone!" of course), and cajun style (vegan) red beans and brown rice.
Awesome Cone can be found in the D-Street Noshery which is a pod of food trucks located at 3221 SE Division St in Portland.  Other food trucks in the D-Street Noshery include Fuego de Lotus, The Pie Spot, Captured by Porches Brewing, Flying Fish Co., Oregon Soup Works, Koi Fusion, Slice Brick Oven Pizza, and Herb's Mac and Cheese.
Enjoy Awesome Cone, just don't expect one of those Drumstick Ice Cream Cones you enjoyed as a kid!
Awesome Cone – Portland, OR
http://www.awesomecone.com
Related Posts:
Friday, November 12, 2010 @
10:11 AM
The last few days there has been a lot of buzz about food truck maps due to Zagat launching a beta of an interactive food truck map for New York City.  I'm thrilled if the Zagat tool brings more positive attention to food trucks, but I was suprised about all of the interest that was created.  After all, Zagat is not the first to offer a food truck map.
In New York City Zagat's Food Truck Map is a newcomer to Tweat.it which has been around for quite awhile (Tweat.it started up six months ago).  The images below show Zagat's and Tweat.it's map from the same time last night.
Personal preference will play the biggest part of what you will like. Personally, I like the look and feel of the tweat.it map. The twitter side panel and the truck logos on the map seems to provide more information to me with one quick glance at the screen. With Zagat I do like that when clicking on the food truck names (by clicking on the map) you also have access to reviews and additional information. I have compared the two maps at different times of the day and while most times most maps share the same number of trucks there have been quite a few times where the tweat.it information seems more comprehensive.
We did notice another NYC food truck map at Gridskipper, however, we haven't had the opportunity to watch it very long to see if it is as accurate or as comprehensive as Zagat or Tweat.it.
Truxmap (foodtrucksmap.com) offers food truck maps for New York City, Los Angeles, Portland, San Francisco, San Diego and Washington, DC.  This service offers one of the most complete and accurate food truck maps for the west coast cities, but still has a little way to go with New York and Washington.  Truxmap does seem dedicated to the food truck map concept as they are supplementing their desktop maps with a variety of mobile applications.
There are two other Los Angeles Food Truck Maps that are also quite good.  Foodtruckr provides a map of LA food trucks that differentiates the trucks that are GPS enabled and providing the most accurate locations versus those trucks with close approximations of their location.  With Twitter being GPS enabled there is no reason for all food trucks to not be providing GPS locations.
ClusterTruck also provides a live map of LA food trucks.  When clicking on a truck on their map you are linked to a page that provides a bit more detail about each truck to enable you to make better decisions.  Their interface is very clean and attractive.
Washington, DC has their own food truck map at FoodTruckFiesta which is rather comprehensive.  Our only complaint is that the map itself is a little small so a lot of the trucks pile up on top of each other.  FoodTruckFiesta also offers an iPhone app of their maps.
Finally in one of the food truck mecca's of the world Microsoft's Bing Maps is providing a food truck map for Portland.  This map is extremely comprehensive (over 300 trucks and carts) and provides integration with FourSquare.com.  There are some basic comments and suggestions for most food trucks indicated on the map. 
There are several other food truck maps that are pretty basic and use Google Maps api to create marked-up maps.
If there are other food truck maps that we haven't mentioned please let us know and we will add them (and if anyone wants to develop one for us, let us know!).
Related Posts:
Saturday, September 11, 2010 @
07:09 PM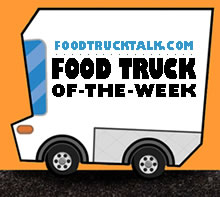 Each week we will feature one specific food truck that impresses the heck out of us.  We are impressed pretty easily… it could be incredible marketing, superb food, a great looking truck, a ton of mainstream press and accolades, etc.  Sometimes, it can just be a free t-shirt.  I told you we are easy!
Plus, the luck Food Truck Of-The-Week can use our cool logo on their web site!  It's as prestigious as an Oscar or Emmy or Golden Globe or MTV Award or ESPY.  Whatever, you get the idea.
If you think you know of a food truck that should be annointed Food Truck Of-The-Week or if you own one let us know!  We love to feature the great diversity in the food truck world.
Related Posts: