Archive for the 'Uncategorized' Category
Monday, April 16, 2012 @
12:04 PM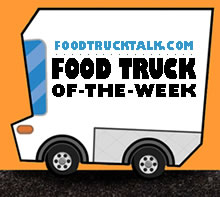 Congratulations to Trailer Park Truck as FoodTruckTalk.com's Food Truck Of-The-Week!
Trailer Park Truck  is about great food and good times.  It is the vision of Dave Miller, who spent his youth touring the world in a punk rock band, then working in the NYC music industry and party scene before finally settling in Santa Monica where he saw the need for a new kind of food truck experience.  He teamed up with some of the most talented chefs in LA to develop a menu of amazing "gourmet American comfort food with a twist".  But he soon realized that it's about more than just amazing food (you can get that on any street corner in Los Angeles) — Trailer Park Truck is a 24-hour traveling food party!
Favorite items at the Trailer Park Truck include Aunt Mimi's Chicken & Waffles: Specially seasoned white meat chicken fried to perfection smothered in a honey maple glaze served on a crispy Belgium waffle.
Also check out the Trailer Park Burger: Specially seasoned 100% Angus beef with American cheese, fried onion strings, baby arugula and housemade SECRET SAUCE!
Trailer Park Truck – Los Angeles, CA
http://www.trailerparktruck.com/
Related Posts:
Sunday, April 15, 2012 @
02:04 PM
If you are a food truck or street food lover than this new book from Heather Shouse is a must for your reading list. "
Food Trucks
" will bring you out to the streets and inside some of the best food trucks in the United States.  This book provides profiles and full-color photographs of more than 100 of the hottest food trucks in 20 cities.
The book is divided by geographical region.  The food trucks from each region are described in detail, along with the story behind the truck.  Also included is incredible photography and a wide variety of food truck recipes.
The book starts out by telling the story behind food trucks in Southern California, including the battles with antiquated and restrictive policies and procedures.  There is then a detailed guide to LA taco trucks including Aquascalientes, Mariscos Jalisco, El Matador and many others.
From the traditional taco trucks the book moves on to the "gourmet food trucks" with profiles of Kogi (along with their Kimchi Quesadilla recipe), as well as short snippets about Nom Nom (bahn mi), Grill Em All (burgers), Buttermilk Truck, Ludo Bites, India Jones Chow Truck, Dosa Truck and others.
The tour continues to Northern California with information about Curry Up Now, Sam's Chowdermobile, Spencer on the Go, Roli Roti, Tanguito, and others.  Once again, great photography, interesting recipes, and for me, wonderful stories about each truck and the people behind them.
FOOD TRUCKS continues the journey in Seattle, Portland, Chicago, Kansas City, Milwaukee, Madison, Minneapolis, Austin, New Orleans, Miami, New York, Philadelphia, Washington DC, and others.
The book helps us understand the true passions of food truck operators.  Often starting from scratch, with minimal funding, their love of creating great food and serving it at reasonable prices to the public is the driving force.  A common theme is that many food truck owners are making no (or minmal) money but continue on for various reasons including the ability to work with family members, create new food, or with the hope of growing their food truck business into a profitable enterprise or even a traditional sit-down restaurant.
The food truck scene in Hawaii is described in detail (Haili's, Macky's Kahuku Sweet Shrimp, Soul Patrol, Ray's Kiawe Broiled Chicken) and like many sections of the book includes a map to help you find the truck of your choosing.  The Hawaiian map shows the location of shrimp trucks, the Portland map features the North Station area, the map of Queens, NY shows the great variety of food trucks in that borough.
As you browse the book you will certainly have your opinions on why certain trucks are profiled and others are missing.  Part of the fun of food trucks is the wide variety and huge numbers of trucks.  Clearly not every truck can be detailed, however, the author does a good job of providing us with a cross section of the food truck movement.
As well as the major metropolitan areas being featured there are also trucks from smaller cities like Portsmouth, NH (Fresh Local), Durham, NC (Only Burger), Marfa, TX (Food Shark), among others featured.
Recipes include Nong's Winter Squash Soup (Nong's Khao Man Gai / Portland), French Toast with Shaved Apples and Bacon Beer Brats (Chef Shack / Minneapolis), Thai Chicken Karaage (East Side King / Austin), Beef Empanadas (Tanguito / San Francisco), Haili's Ahi Tuna Poke (Haili's / Honolulu), Spam Sliders (Marination Mobile / Seattle), Krista's Lamb Kebabs (Food Shark / Texas), Sloppy Jose (Gastropod / Miami), Beijing Hot Noodles (Yue Kee / Philadelphia) among many, many others!
Whether you are interested in food truck history, food, recipes or photos you will find this book entertaining and a lot of fun to read. Share it with your friends… I'm sure it will lead to a very active "discussion" about everyone's favorite food trucks and dishes.  It's all part of the fun of food trucks!
Food Trucks – Dispatches & Recipes From The Best Kitchens On Wheels
Available at AMAZON.COM and most bookstores.  Retail price is $20.  Currently at Amazon.com the price is just $11.52!
Related Posts:
Monday, March 12, 2012 @
11:03 AM
Our streets are packed with decorated vehicles dishing out gourmet meals, our Twitter feeds are filled with updates for a cupcake scavenger hunt and chefs are speaking directly to us, yep, food trucks are all around.
Piggybacking off food truck's popularity is the growing trend of food truck tours. These tours include tastings from the cities' best food trucks, cuisine and city culture lessons, history of the trucks and an overall food adventure. They are springing up in cities around the US, being offered as experience gifts by companies like Cloud 9 Living, and there is no end in sight.
Going on a food truck tour "is a great idea because they will already have pre-selected a theme or picked the best of the best. They have done the legwork for you," said Suzy Badaracco, president of Culinary Tides, Inc., a culinary trend forecasting company.
And the owner of Ready to Nosh Food Tours, Jon Slavinski, agrees that food truck tours are a staying trend, saying that most tourist leave excited about how tasty the food was and how fully their bellies are.
From Trucks to Tours
In the past few years food trucks have crashed onto the culinary scene, and they are here for good.
Many factors lead to the gourmet food truck scene's success. As budgets shrunk, food trucks provided a channel to make gourmet affordable.
"It can be what you pay for a McDonald's value meal, but it's better," Slavinski said. "It's also fast."
Plus, according to Badaracco, food trucks create entertainment since the consumer must be an urban forager—seeking out the truck as its prey. In addition, with distrust that people feel in wartime, visitors to mobile food trucks are comforted by face-to-face interactions with the chefs. Also, with the growth of social media and the rapid pace of which we receive news updates via Twitter and Facebook, food trucks were given a means for survival.
Being that food trucks seem to be an everlasting fashion, the next move was obvious—food truck tours.
"We wanted to stand out in the growing trend of food trucks and found that there wasn't anyone educating people on food truck tours yet," Slavinski said.
Tours will satisfy anyone wanting to go on a food adventure or sightsee in a new city. Also, with millennials having little money to travel, food truck tours provide an avenue for them to escape and taste cuisine from different countries, according to Badaracco. Tours also fit the mood of the consumer right now because the economy is recovering and people's senses are opened—ready to explore and indulge.
Plus, they are a perfect and edgy experience gift for corporate outings, birthdays or families.
"You are hip, cool and in-the-know because you are on a food truck tour," Badaracco said.
And, these tours allow visitors or residents to explore their community and eat locally.
While on Tour:
The food trucks tours offered as experience gifts at Cloud 9 Living include three to four truck stops with tastings plus culture and history on the food, city and trucks.
On tours, guests walk up to half of a mile between trucks to enjoy delights ranging from Korean tacos to stuffed crepes to pork belly sandwiches. And anything you can't fit in your stomach can be brought home as Slavinski notes that about 90 percent of tourists leave with doggie bags.
In addition to leaving with food, guests will leave with new friends.
"When you are breaking bread with them, they instantly become friends of yours," Slavinski said.
While many cities have a bustling food cart and truck community, many popular tours take place in Boston, Portland, Austin, Seattle, Philadelphia, Los Angeles, New York City and Washington DC.
So round up the troops and set out to discover the mobile gourmet wonders in your city!
Author Bio: Based out of Denver, CO, Ashley McCredie is the online content coordinator for and experience gifts company, Cloud 9 Living. She is a freelance blogger and writer, a photographer and a traveler. Follow her on Twitter at: @ashleymccredie
Related Posts:
Monday, November 7, 2011 @
06:11 PM
The food truck phenomena seems to have prompted other businesses to promote themselves with mobile identities.
Recently, there was a round-up of food trucks at Hollywood's Federal Bar.  Canters, Coolhaus, Vizzi, Grill Em All, Calbi, and several others all were in attendence!  In addition to great food, music, and beverages you could get a haircut!
The Original Mobile Barbershop Co. was on hand to provide those in need of a "little off the side" or more!
A gathering of food trucks is very similar to the food court at the mall.  A variety of foods from different vendors.  Just like the mall you can update your "look" with clothing stores on wheels such as the William B + Friends truck which features a wide variety of fashion samples for your purchase.
Or Le Fashion Truck that's filled with in-style clothing and accessories.
I think it would be a tad embarrassing but how about the Miracle Mobile Fitness studio?  Would you want this truck in your driveway?
Hmmm, it would be great to work off some calories immediately after sampling food from a variety of food trucks!
As you pamper yourself with food, fashion, fitness and a "fade" let's not forget about man's best friend.  The Phydough Truck pampers your pet with a variety of healthy and gourmet dog treats. (@phydoughtruck)
Who doesn't want to see a cute dog photo?
We're sure that there are bound to be more creative mobile businesses popping up.  If you've seen one, snap a photo and send it to us!
Related Posts:
Friday, September 16, 2011 @
09:09 AM
What do tacos, hot dogs, burgers, pizza, french fries, lobster rolls and greek yogurt all have in common?  Why, they are all available from food trucks, of course.  Chobani Greek Yogurt has long been our favorite breakfast and snack yogurt.  A few years ago it was pretty hard to find, but now it's distribution is very broad and includes most grocery stores and even the big club stores.  (I think I recently noticed the Chobani competition start to copy their packaging style and marketing techniques).
Chobani has introduced their CHOmobile – it's a greek yogurt dispensary on wheels.  It visits festivals and other events promoting Chobani and giving away FREE full-size samples of all their flavors.  Chobani's unique straining process creates a creamier and better tasting greek yogurt.
Chobani is made with only natural ingredients, no preservatives, artificial flavors, or synthetic growth hormones.  It's made with real fruit and has twice the protein of regular yogurts!
There are plenty of national brands promoting their products with food trucks, but you will probably not find a healthier and tastier treat than Chobani!  When the CHOmobile is near you give one of their great flavors a try: Plain, Black Cherry (yum!), lemon, blueberry, honey, raspberry, peach, pomegranate, strawberry, mango, vanilla, pineapple, and strawberry banana.
This weekend the CHOmobile will be at the Snowmass Balloon Festival in Colorado.  The complete CHOMOBILE TOUR 2011 schedule can be found at http://www.chobani.com/chomobile.
Chobani is very active on Facebook and Twitter (give 'em a shout out @chobani)!
CHOmobile – Chobani Greek Yogurt
http://www.chobani.com
Related Posts: