Archive for the 'Washington' Category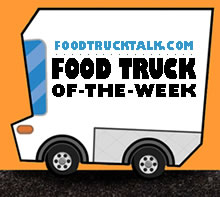 Congratulations to Marination Mobile as FoodTruckTalk.com's Food Truck Of-The-Week!
Kamala is one of the owners of one of Seattle's most popular food trucks – Marination Mobile  She is originally from Hawaii, and has a little bit of Korean in her as well.
Her partner is Roz.  She is Chinese and Filipina by blood, born in Greece, and raised by a Japanese mom.  She lived in Romania for a while as well.
Together Kamala and Roz dish out some amazing dishes inspired primarily by the flavors of Hawaii and Korea.  They obviously share a lot of ethnic knowledge about most of the world so they are experts in creating great international flavor.  As Kamala says about Marination, "it's the melting of Korean heat and aloha love together in a corn tortilla."
It's clear Marination's marinades are top notch.  The tacos are stuffed with either pork, ginger-miso chicken, tofu or kalbi and topped with a saucy, tangy slaw.  Kalbi is a traditional Korean dish; tender short ribs marinaded in soy, garlic and citrus.  It's salty and sweet!  The pork is sliced super thin and marinaded in a rich red pepper sauce. 
Related Posts: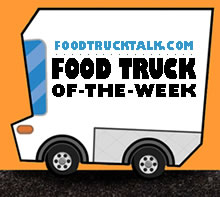 Congratulations to Maximus / Minimus as FoodTruckTalk.com's Food Truck Of-The-Week!
The pig is back!  We waited until their winter hiatus was over, but we can wait no longer… probably the most unique looking food truck is back on the street in Seattle.  It's the Maximus / Minimus pig food truck!
Maximus / Minimus is the passion of Kurt Beecher Dammeier who extended his love of making braised pork sandwiches for his staff into an incredibly recognizable food truck.
Kurt named his truck based on the two flavor profiles he serves: Maximus (savory and spicy!) and Minimus (tangy and sweet).  It didn't hurt that his eldest son's name is Max aka Maximus!  Designer Colin Reedy worked with Kurt (along with fiberglass and aluminum) to create this enormous roaming pig.
The pig's specialties are their two version of grilled or pulled pork.  The Maximus is hot and spicy from a mixture of peppers, onions, and fruit juices.  The Minimus is sweet and tangy with tamarind, honey, and molasses.  The flavor of these sandwiches is unique and unlike traditional BBQ pulled pork (the cilantro on top adds a great twist).
As a side dish add Beecher's Flagship cheese (from another of Kurt's businesses) or slaw.  Also available are kettle chips and mac/cheese, both great;  freshly made and very tasty!
For non-pork eaters there is also a selection of veggie sandwiches and grilled chicken sandwiches, both served in either a Minimus or Maximus style.
You can't miss the Maximus / Minimus food truck, and you won't want to as I think you'll really enjoy their take on pork.  They take it seriously, why else would their truck have the license plate "SOME PIG."
Maximus / Minimus – Seattle, WA
http://www.maximus-minimus.com
Related Posts: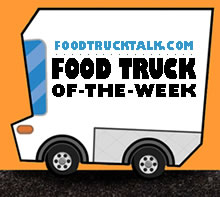 Each week we will feature one specific food truck that impresses the heck out of us.  We are impressed pretty easily… it could be incredible marketing, superb food, a great looking truck, a ton of mainstream press and accolades, etc.  Sometimes, it can just be a free t-shirt.  I told you we are easy!
Plus, the luck Food Truck Of-The-Week can use our cool logo on their web site!  It's as prestigious as an Oscar or Emmy or Golden Globe or MTV Award or ESPY.  Whatever, you get the idea.
If you think you know of a food truck that should be annointed Food Truck Of-The-Week or if you own one let us know!  We love to feature the great diversity in the food truck world.
[twitter-widget username="foodtrucktalk" items="5″ hidereplies="true" targetBlank="true"]
Related Posts: