Sweetery – Street Sweets – New York, NY (@sweeterynyc)
Tuesday, November 2, 2010 @
11:11 AM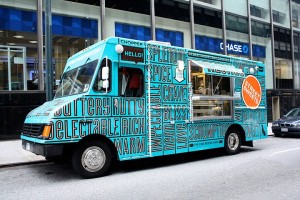 When you hear the "Street Sweets" name you are probably thinking, "oh, another cupcake truck."  Well, in the case of New York City's Street Sweets food truck you are absolutely correct…. or, ummmm, maybe you are totally wrong???
Street Sweets certainly has cupcakes freshly baked on their truck, and they are darn good.  Who doesn't love a great Red Velvet cupcake made from all natural ingredients?  Street Sweets' menu items contain all natural ingredients like organic milk, raw sugar, and fair-trade coffee beans.
But cupcakes are not the highlight of the Street Sweets menu.  That honor goes to the European inspired create-your-own-croissants which can be filled with a choice of pastry creams such as mocha, praline, vanilla and chocolate, all natural preserves, honey and nut butters.
Save room for muffins, scones, quiches (leek onion and swiss cheese, salmon and dill, lorraine and more), cookies, brownies and more.  And all of these items are baked right in front of your eyes!
With the weather turning cooler Street Sweets can warm you up with great coffee, tea, hot chocolate, cider, cappuccino, latte and espresso or a made daily soup that is all natural, with no preservatives, antibiotics or hormones (Chicken Noodle, Tomato with Basil to name a couple).   A cup of coffee and a croissant filled with marshmellow cream sounds like it can warm you up.
Grant Di Mille and Samira Mahboubian use recipes passed down from their families for generations and generations.  But they are open to suggestion, and would love to hear your sweet suggestions!
Street Sweets – New York, NY
http://www.streetsweetsny.com
What do you get when you marry organic ice cream to Sweetery's all natural cookies.....heaven on wheels!

Gd morning Hudson/King St Sweetery is on site 2 make ur morning a delight cause if we weren't @ that sight who knows what might b the blight

Did u know that u could hire Sweetery 2 b @ ur personal celebration, office party, picnic, or marketing event, it does not get any Sweetery!

How does Sweetery define love, two incredible cookies hugging the most amazing ice cream imaginable. Come find love at our mobile bake shop.

Hudson/King St, you r the envy of ALL of Manhattan. Y u ask, here's a clue, because u have something that's big & blue, with words all over.
Related Posts:
One Response to "Sweetery – Street Sweets – New York, NY (@sweeterynyc)"