There are a few things concerning the Curbside Truck that grabbed our attention.  First off, everybody loves hamburgers – but not everyone makes a great hamburger, the Curbside Food Truck does.  Secondly, the Curbside Truck has found a way to take a traditional item like the hamburger and localize it.
Meet the KGB Burger.  A thick and gooey mixture featuring Louisiana pralines is poured over a juicy burger covered with thick-cut bacon and topped off with a fried egg!  A powerful wake up to your taste buds.
Each day the Curbside Truck serves the KGB Burger, the Curbside Classic Burger (patriotic American cheeseburger) and the Brian Burger.  I don't know Brian, but if I did I bet we'd get along great since his namesake burger is topped with sharp cheddar cheese and Curbside's award winning pork belly preserves!  Brian, you know how to live!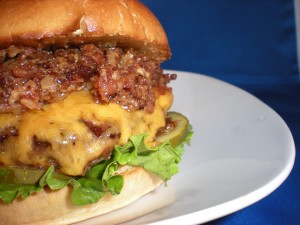 Related Posts: