Cleveland's Dim and Den Sum food truck has received national recognition for their creativity and flair, they are among the best known food truck brands in the U.S.   National magazines have profiled Chef Chris Hodgson and his truck numerous times. 
Like many food trucks, from various cities, Dim and Den Sum has been embroiled in a dispute with the city they serve over where they can serve.  It seems that although Dim and Den Sum has a permit to be able to set up shop in downtown Cleveland, the permit prevents them from doing so in areas where their would be enough people to support the business.
This controversy came to the attention of the mainstream media when Chef Hodgson announced via Twitter that if he was unable to service the more populated areas of downtown Cleveland that he would be out of business in "four weeks." 
Dim and Den Sum has become a Cleveland favorite and enjoys a great following!  There is a  groundswell of Dim and Den Sum support!
To bring more attention to the cause Dim and Den Sum has released a limited edition t-shirt emblazoned with the phrase: "STREET SNACKS ARE NOT A CRIME."  The shirts (pictured above and modeled by Chef Chris) are sure to be a popular site around Cleveland!   The message will resonate not only in Cleveland but in all locations around the country where the food truck revolution is met with governmental resistance.
Cleveland's WJW-TV (Fox 8) reporter Mark Zinni http://www.twitter.com/markzinni) has done a great job keeping Clevelanders up to date on the fate of Dim and Den Sum and other Cleveland food trucks.
We hope that all of the attention will help all of the Cleveland food trucks (including Dim and Den Sum) maintain a presence in Cleveland.  This city has already seen another of it's icons move to Miami and they don't want to lose another one.
If you would like one of the "STREET SNACKS ARE NOT A CRIME" t-shirts contact Dim and Den Sum.
Dim and Den Sum – Cleveland, OH
http://www.dimanddensum.com
Twitter: @dimanddensum
Related Posts: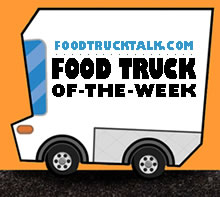 Congratulations to Dim and Den Sum as FoodTruckTalk.com's Food Truck Of-The-Week! 
Note: This food truck is not currently operational.
Also, congratulations to Chris Hodgson and  Dim and Den Sum for being named one of Cleveland's Top 25 Restaurants You Can't Live Without by Scene Magazine and our favorite super food writer Doug Trattner –  @dougtrattner.
Along America's North Shore there is this town called Cleveland.  Yeah, that Cleveland, the city that is the brunt of many jokes, the city where the river caught fire, the city discarded by a somewhat famous basketball player.  But this city called Cleveland is also home to Iron Chef Michael Symon and the wonderful Lola and Lolita restaurants.  It is also home to another fine dining experience – Dim and Den Sum.
Dim and Dem Sum chef Chris Hodgson is a Clevelander who improved on his already great culinary prowness by heading first to the west where he greaduated from Scotsdale Le Cordon Blue to the East where he worked at some of new York City's best.  After getting off work at 3am Chris often hit up the local taco truck for some late night snacks.  It was a great concept, great food at a price that all could afford.
Dim and Dem Sum has a short menu, but it is filled with flavors and quality ingredients one would not expect to find at a food truck, and especially not in blue collar Cleveland.   The menu changes on a regular basis but can include such favorites as Roasted Butternut Squash and Apple Dumplings, Curry Duck Taco (Curry duck confit, housemade tortilla, grape, cherry tomato salso, sweet purple cabbase slaw),  and the always popular Gravy Potato Tots with Amish cheese curds and gravy.  Add foie gras to your tots if you prefer.
Another popular item has been the PBLT, pork shoulder confit, thick cut house smoked bacon, tomato jam, arugula, and sriacha mayo.
Like I said, not stuff you'd expect to find off a truck!.  Currently the Milk Braised Pork Bahn mi is popular (pork, serrano, bologna, radish, cucumber and cilantro.).
Dim and Den Sum is often located at the Cleveland Clinic's Farmer's Market or the Cleveland Institute of Art.  Wherever they are you can count on great food, creative items, and friendly people.
Clevelander's are in love with Dim and Den Sum, they are also optimistic that Chef Hodgson won't take his truck and his talents to South Beach!  Finally, Cleveland has a winner!
Original publication date: 09/21/10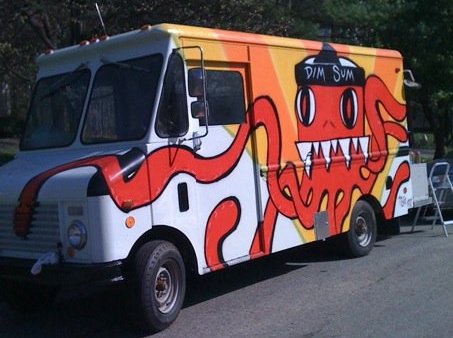 Dim and Dem Sum – Cleveland, OH
http://www.dimanddensum.com
Related Posts: